05.10.2016, Ellimaija Ahonen
Facts and findings about Special classes
This summer, one Study Tour participant decided to take a field trip to a faraway place to learn about the most successful and efficient school system in the world.  Mr. Rickbeil from Maryland, USA wanted to see how a different culture educates their kids.  This time he reflects facts and findings around highly popular special classes instead of core subjects. Why special classes are so special?
Few quotes below, read the whole blog here.
"For one week of my visit to Finland, I participated in a Finnish study tour led by a company called Learning Scoop, which specializes in giving foreign educators a tour of the Finnish education system.  During my study tour, I was able to visit four different schools, spending a few hours at each school.  I walked through the hallways, visited classrooms, met with some of the students, teachers, and principals, and dined on their school lunches.  One of the biggest differences I noticed with their culture was their special treatment of the classes we would call "specials".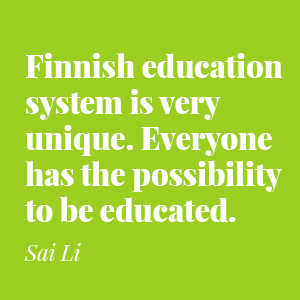 I noticed that Finnish students spend more time working on classes that we would not consider our "core" subjects, such as foreign languages, physical education, art, and music.  Although Finland's students place near the top of the charts on international reading, math, and science tests, they  spend a smaller proportion of their school day in these subjects. Some of the schools even have small forests with cross-country ski trails right on their campus, so students can enjoy a 5k loop on their skis during gym class.
Additionally, it is not uncommon to find classrooms in Finnish schools with looms, sewing machines, power saws, and woodworking equipment.  Crafting and woodworking are staples of the Finnish educational system, and they have revised their curriculum to make sure that boys and girls learn how to sew and do woodwork. Some of the principals told me that home economics has become the most popular class in their school!
In the United States, we have a way of short-changing these "special" classes.  When we have to prioritize, we limit our scope to math and language arts, sometimes clumping science and social studies into this as well.  Although all of these subjects are important, Finland taught me not to underestimate the rest of the curriculum.  After all, it is through these subjects that we truly learn about what we need for life."
And the saga continues…