General Education Study Tour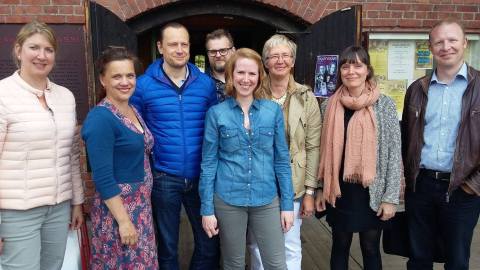 Where: Tampere, Finland.
Daily program on Study Tour at 9am- 3pm
Program:
Monday: Introduction to the Finnish Education System
Finnish Education system and training routes

Introduction to the principles behind the education system
Paradoxes of Finnish Education: Less is More, No dead ends etc.
Teacher's role and tasks and teacher autonomy

School visit
Tuesday: Curriculum and Assessment in the Finnish Basic Education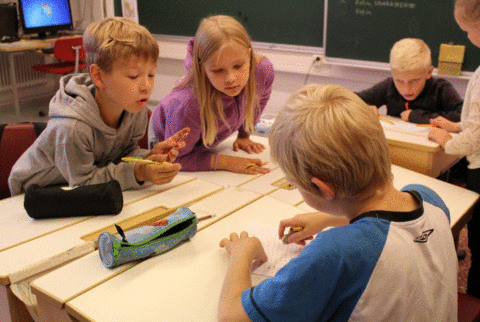 National core curriculum vs. local curricula
Curriculum and teaching materials
Assessment in the Finnish Basic Education: continuous assessment, but no national tests
Learning theory and practices in Finland
Learner centered learning approach
School visit
Wednesday: Educational support: Inclusive education, guidance, counselling and student welfare services
What does integration and inclusion mean in Finnish schools and how it is implemented?
Categories of support and counselling practices
The aims and practices of student welfare services
School visits: special needs school/class or integrated class
Thursday: Open and Flexible Learning Environments
Media school, media pedagogy
Library –school co-operation
Museum as a learning environment
Visits to library, museum, media school etc.
Friday: Leadership and Management in Finnish Schools
The role and tasks of a principal in Finnish schools
Shared leadership as a basis for Finnish education
School as an educational working environment
Cooperation between home and school
School visit
Evaluation and reflection of the program
Farewell lunch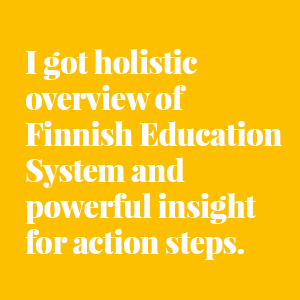 School visits include:
Guided visits to Finnish schools
Different types of schools: from pre-primary school to the upper comprehensive school, small, large, special needs, etc.
Opportunities to become familiar with each school's modus operandi and areas scheduled for development
Participation in the school's day-to-day activities: class room, meal time, etc.
Opportunities to talk with teachers and students
School visits are delivered in collaboration with City of Tampere
Excursions and cultural experiencies: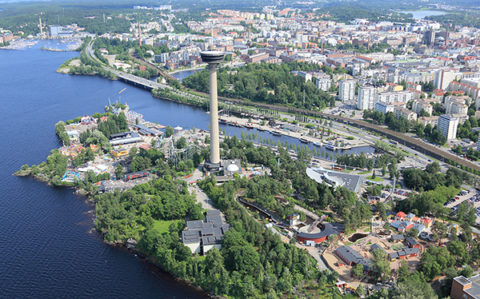 There are plenty of excursions and evening activities available. Are you interested in Boat Tour or seeing Finnish Wilderness? How about Sauna Experience or Ice hole swimming? Read more about Finnish Excursions and Experiences here.
We are happy to tell more!
Training methods: The program includes introductions by the instructors to the various themes mentioned above, and independent and collaborative activities. The training methods are widely used in the Finnish education system. Particular attention will be paid to reflecting and expanding on the experiences the participants have during their visits to various educational institutions in region. Every study visit program is carefully evaluated.
Trainers: Learning Scoop is a Finnish company working in the fields of education and training. The staff comprises experienced teachers and experts, who have received excellent feedback on their work.
The trainers at Learning Scoop have years of teaching experience gained through the Finnish educational community and through teacher training. Learning Scoop trainers have received outstanding feedback for their well-executed and inspiring training sessions and study visits.
Costs: The price for individual participant is 1350e+VAT 24% / person
Group prices:
5-9 participants in a group the price is 1200e+VAT 24% / person
10-14 participants in a group the price is 1050e+VAT 24% / person
15-19 participantsthe in a group the price is 950e+VAT 24% / person
20 or more participants in a group the price is 850e+VAT 24% / person
The program includes lectures, study material, visits and transportation to visit places, school lunches and farewell lunch.
Next tours: