27.08.2021, Ellimaija Ahonen
The Finnish Teacher: Podcast interview by TeachPitch
"The data keep on piling up that there is something about Finland and Education". We had an honor to be part of The TeachPitch Podcast series. Our Pedagogical Director Johanna Järvinen-Taubert is sharing insight to the cornerstones of Finnish education, child-centered pedagogy and ways to reach our ultimate goal, Sustainable Development Goal #4, Quality Education For All. This "Finnish teacher" podcast by TeachPitch takes you also to the origins of LessonApp.
Finland has the best-developed education system in the world. What makes it so unique and which elements can be adopted by other countries in this world to improve their educational outcomes?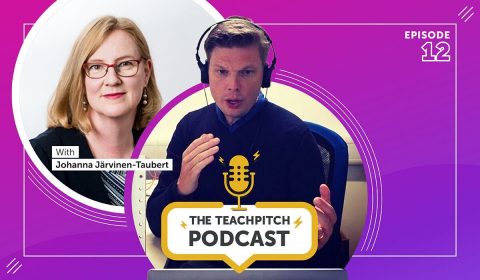 "We think that education is a human right. Every child has a right to quality education. If we know something about it and we could share this knowledge, we must to do it. The question was how."
Johanna is one of the editors and authors of the book: Finnish Education in Practice, What, Why and How (publisher Kite Group) and one of the founders of Learning Scoop that seeks to train teachers all over the world on how they can adopt Finnish methods to improve teaching styles and educational outcomes.
Thank you for the great talks with podcast editor Aldo de Pape! Listen the Finnish Teacher podcast by TeachPitch here.