28.10.2016, Learning Scoop
Inspiring company and inner motivation
I have had a great pleasure to meet this week fine, fine young adults.
First I held a workshop about Finnish Education System and Entrepreneurship Education with the group of South-African entrepreneurs. I must say that South-African future is in good hands if people like these are given possibility. Such good questions, great discussion and fine ideas. I certainly hope we can carry on working with you.
Another evening we had a meeting with Learning Scoop Ambassadors of Learning. They are people around the world, that have moved into Finland and Tampere. One need to be brave to leave one´s own country and start from the beginning in a country with such a strange language. We are so rich to have such network of brave people working with us. And what a nice and inspiring evening  we had together!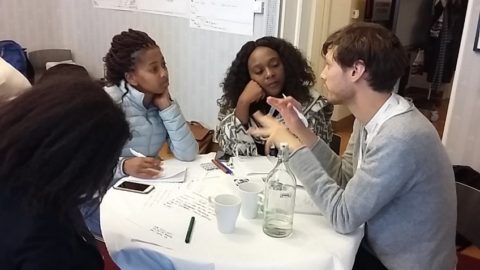 What drives these young entrepreneurs, people moving to a new country and also us, in Learning Scoop to carry on? One answer comes from the theory of inner motivation or officially Self-Determination Theory, that says: "Conditions supporting the individual's experience of autonomy, competence and relatedness are argued to foster the most volitional and high quality forms of motivation and engagement for activities, including enhanced performance, persistence, and creativity. " The theory was initially developed by Edward L. Deci and Richard M. Ryan.
These fine people that I have been lucky to meet this week have had strong inner motivation on things that they are doing.  Inner, shared motivation is also behind the Learning Scoop. I think we are very fortunate to have a life where we have autonomy and freedom to work with matters that we find interesting, meaningful and important.  We have and we can get competences to carry on working and solve problems. We also have a great Learning Scoop global community and we meet new, fine people around to world to work with. That is real richness.
Elina