14.11.2017, Ellimaija Ahonen
Learning Scoop in collaboration with Lapland Hotels

Considering a Study Tour or training course in Tampere, Finland?

We are happy to start collaboration with Lapland Hotels in Tampere which offers our customers a chance to experience Lapland in the heart of a city. The centrally located hotel is close to our training premises at the University of Tampere and 141 rooms have been decorated with skill and style to suit the taste of even the most quality conscious guests. The design of the rooms was influenced by nature and the stories of Lapland. The restaurant serves unique tastes of Nordic nature and Lapland in visually pleasing dishes.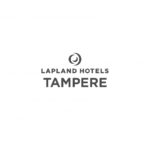 We offer fixed prices for our customers accordingly:
Room in Comfort Class for 1 person 100€/night
Room in Comfort Class for 2 persons 120€/night
Room in Comfort Class for 3 persons 150€/night
DeLuxe Room for 1 person 130€/night
Book your room at Lapland Hotels in Tampere by email: tampere@laplandhotels.com with code "LEARNINGSCOOP"
Have a lovely stay in Finland!