11.12.2017, Learning Scoop
Services on the wheels in Ukraine – Learning Scoop as one of the European Experts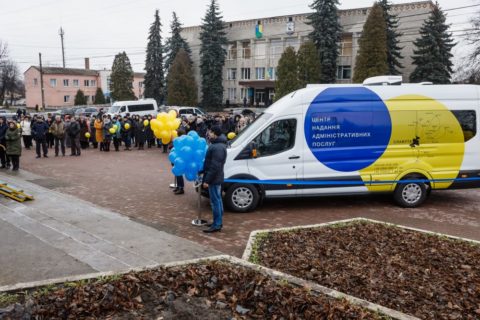 On November 30, the very first in Ukraine Mobile Administrative Service Centre began operating in Slavuta сommunity. A specially equipped vehicle with workstations for two administrators and places for three visitors provides 80 types of services in the remote villages and settlements. This model, proven successful in European countries, is an absolute novelty for Ukraine. Development of good local governance is one of the priorities of the EU-Ukraine cooperation. As Learning Scoop experts have previous experience of conducting such services (Awards for Internet Bus Netti-Nysse: European Union best practice on dimension of eGovernment, The Millennium Technology Prize Foundation, Special Recognition Award for a particular people-centered application that exploits the World Wide Web and Internet Technology among others), we were happy to collaborate and share our knowledge.
Now, the staff will visit the residents in remote settlements on the regular basis: during the week, the vehicle will run 5 routes covering 20 settlements. This mobile service on the wheels will provide access to high quality services for 8,000 residents of the remote areas in Slavuta community, including pensioners and people with disabilities. The mobile ASC provides the most popular services for the community residents. It is equipped with the terminal for cashless payments and there is an opportunity to install the passport issuing equipment. The mobile ASC can work as a "visiting administrator" when the ASC staff provide services to the people at their homes.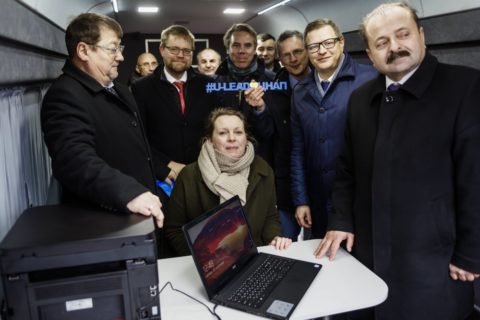 The mobile ASC in Slavuta is a pilot project. This model will be implemented in other regions of Ukraine, provided it demonstrates economic efficiency. Ukrainians will have the opportunity to communicate with the authorities through transparent offices, avoiding the need to appeal to the officials.
Mr. Martin Hagström, the Ambassador of Sweden to Ukraine personally greeted the community residents on the occasion of the mobile ASC opening: "The decentralisation reform opens more opportunities for the citizens to be involved in the development and well-being of their region. We are very pleased to see such a fruitful cooperation between the Slavuta community and U-LEAD with Europe experts, which resulted in the opening of the very first mobile ASC in Ukraine."
Mr. Vasyl Sydor, Chairman of the Slavuta town council: "I am grateful to the U-LEAD with Europe experts and the EU countries for their support and contribution to the development of our community. Equipped with the best European practices, we will be able to improve the delivery of administrative services to our citizens. I hope we will demonstrate great results and will be able to share our experience with other communities in the near future."
All the best and thank you SKL International for giving us the chance to being part of this great initiative. We hope that the launch of a mobile Administrative Service Centre will strongly contribute to local empowerment and growth!
Innovations in decentralization and local democracy – development of human potential.