30.01.2019, Learning Scoop
Learning Scoop goes Latin America
Learning Scoop is happy to start collaboration with SISU Educación & Bienestar in Bolivia, Latin America.
The first online courses are taking place yesterday and today covering themes
"How to keep the student´s interest at class" and "Teaching and learning methodologies to develop the kids´ potential in class." Our wonderful experts Johanna Järvinen-Taubert and Satu Herrala are delivering the sessions from Tampere, Finland with the translation help from Beatriz Arze. Team work!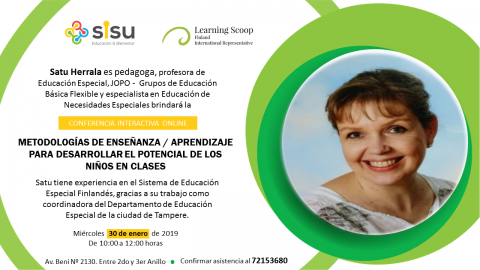 We have had joy to collaborate with our International Representative Lauren Weber for two years already. She was highly involved with Roadshow in Bolivia in 2017 and made things possible at Bolivia end. 1st Encuentro pedagógico – innovar en educacion es posible – Finlandia sabe como saberlo!
The new training initiative holds a name "SISU Educación & Bienestar" and has origins in Finnish word "Sisu". It means determination, perseverance and never give up despite the circumstances.
Get to know SISU on Facebook.