06.10.2017, Ellimaija Ahonen
"The Miracle of Finnish Education" Bolivia Tour 2017 by Learning Scoop
Saludos desde Finlandia! Esperando pronto conocerlos a todos en Bolivia.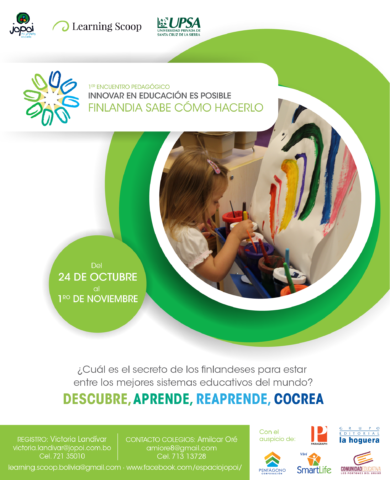 Team Learning Scoop together with assigned partners will travel to Bolivia in late October.  "The Miracle of Finnish Education" Bolivia Tour 2017 by Learning Scoop takes place in Santa Cruz on October 24th -November 1st.
There will be a big seminar on Saturday and some interesting workshops and sessions during other days. Themes vary from educational management and leadership of principals to Curriculum design, from School and family collaboration to Educational innovations.
Boliviaś biggest newspaper "El Deber" was curious to know more about education system and mindset in Finland. Read the interview by Learning Scoop here (in Spanish).
We are happy to have great local partners in Bolivia to make this roadshow possible. Thank you especially UPSA (Universidad privada de Santa Cruz de la Sierra),  Jopoí Espacio and our International Representatives Beatriz M. Arze Devia in Finland and Lauren Weber in Bolivia.
Looking forward to "1st ENCUENTRO PEDAGÓGICO – INNOVAR EN EDUCACIÓN ES POSIBLE – FINLANDIA SABE COMO HACERLO"
Click the image to view a video!