04.05.2023, Ellimaija Ahonen
Finnish Nature Experience
While in Tampere why not to forget the urban nature for an evening? We recommend to get energized in Finnish forest! Our Study Tour visitors enjoy Finnish Nature Experience, which is a guided evening spent in Finnish nature. We provide the experience together with our partner Adventure Apes.
Let the fun begin!
Team building and making new friends is one of the core targets of Adventure Apes and in this outdoor activity we want to give you a taste of it. In this hands-on activity you will first build a fire without matches as a team. Fire making in a traditional way using only a fire steel is not an easy task and requires a lot of teamwork and strategic planning.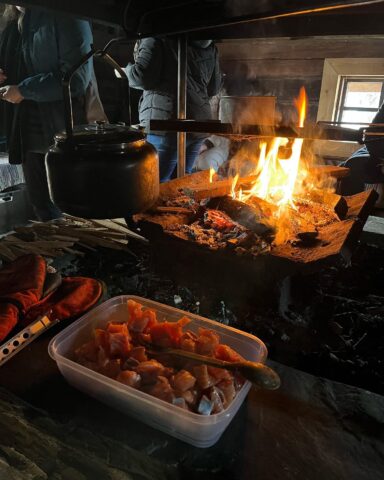 When you have first made the fire it is time to start cooking a delicious meal around an open fire for the whole group. Sustainability is something we take for granted in Finland and also in this activity we use only pure local ingredients to prepare a creamy fish or vegetarian soup. We do not use single use plastics but environment friendly long lasting plates, mugs and cutlery which are not only ecological also beautiful and easy to use.
For dessert everyone will bake their own bun in a stick and compete in the making of the most beautiful bun. This is the time to chat with your new friends and sharing this moment around the campfire is something to remember for a long time.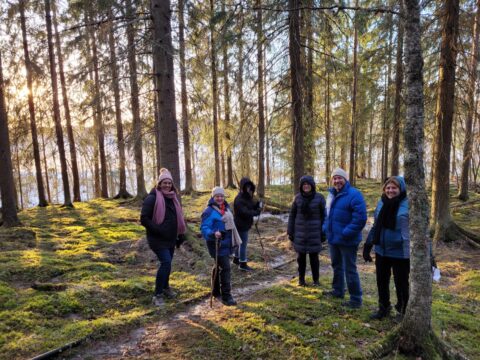 After the delicious dinner it is time to participate in Nature Bingo in pairs or in small teams. You will walk to a nearby Hörtsänä Arboretum where you will stroll around small pathways and try to find different flora and fauna to match your Bingo sheet. While enjoying the silence of nature you will learn interesting facts not only about Finnish plants but also from foreign species. Hörtsänä Arboretum was founded in 1909 by Hugo Hörtsänä and is now a private nature protection area.
In a nutshell, what to expect?
• A safe, guided evening spent with your old and new colleagues outdoors
• You will learn about the Finnish flora and fauna – have you ever tried Nature Bingo?
• A delicious dinner cooked on open fire
• Glimpse of Finnish culture and way of living close to the nature
• Relaxed mind
Together with our partner Adventure Apes we are happy to offer a one-of-a-kind chance Finnish Nature Experience to explore Finnish forest, nature and try open fire cooking.
Warmly welcome!