06.01.2020, Ellimaija Ahonen
Learning Scoop Year 2019 in a Nutshell
It is time to wrap up 2019 and welcome 2020!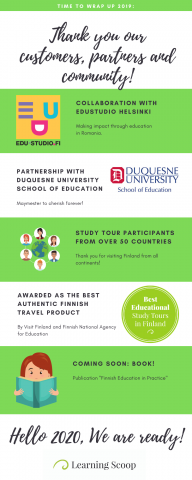 Not in any particular order we would like to share few highlights from 2019.
We started collaboration with Edustudio Helsinki to boost impact through quality education in Romania. Thank you for your hard work and can do attitude!
It was our honour to establish partnership with Duquesne University, School of Education. We ran the first ever Maymester – Study Abroad Programme in Tampere Finland together with fantastic faculty team from Duquesne University, A great success! This after movie will give a glimpse of all the great things we experienced during the 3 week stay with students and staff. Also our Pedagogical Director Johanna Järvinen-Taubert visited Pittsburgh during the Autumn.
Learning Scoop Study Tours were awarded as the Best Authentic Finnish Travel Product in September 2019. The selection was made by Visit Finland and Finnish National Agency for Education. The products were evaluated based on their attractiveness, authenticity, uniqueness, adaptability and educational content. Extra points were given for sustainability, visibility in digital channels and extending the travel season. Thank you!
We would like to thank our customers from over 50 different countries, partners and community for everything we went through last year. We are so happy to have you here with us!
Team Learning Scoop is ready to write new success stories together with you!
Ps. We are very excited to publish our first book! It focuses to explain and showcase Finnish Education in Practice. Stay tuned!