04.09.2018, Ellimaija Ahonen
We enable meaningful learning
Basic Education (K-9) Study Tour and Principal Study Tour kicked off the Autumn semester 2018. Team Learning Scoop had the privilege to encounter enthusiastic and skilled educators from Abu Dhabi, Australia, Malta, New Zealand and USA.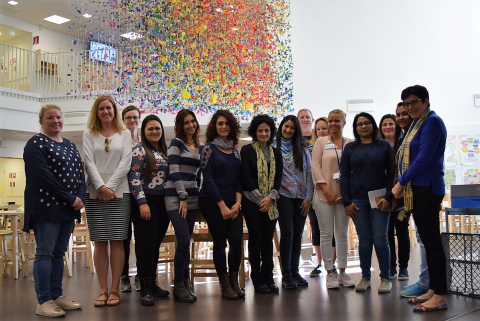 Basic Education group focused on getting to know cornerstones of Finnish education: Finnish Education system and training routes, Curriculum and Assessment, Educational support meaning inclusive education, guidance, counselling, Pedagogy, Multi-professional co-operation (between schools, parents, teachers, supporting institutes), Flexible Basic Education (JOPO) and Leadership & Management in Finnish Schools.
With Principals we covered topics as Leading the development work at schools, Shared leadership, Good governance and administration, Co-operation and educational support etc. and met many principals from rural schools to brand new city schools. What you get nowadays free of charge? No matter what´s the location or size of the school, leadership and atmosphere matter the most – essential things which are not tied to resources.
Our visitors also enjoyed Green Trail Nature Experience. Together with our partners we were happy to offer a one-of-a-kind chance to experience Finnish nature and try open fire cooking. Based on fantastic feedback we are aiming to offer this in the future, too!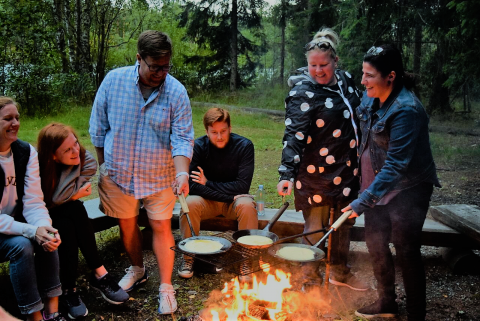 As study tours are all about connections, atmosphere, learning from each other we are happy to announce that there will be at least 9 groups more coming to Tampere, Finland during this Autumn – can´t wait to meet you and build on human capacity! We feel that our study tour visitors are among those progressive pioneers who really can and are willing to make impact in education. We are happy to be on the same side of the table with you and challenge the status quo. Let´s enable meaningful learning!
We keep on smiling as thinking all of you and feeling thankful for your feedback. Our customers know it best:
As a teacher, I am constantly looking for ways to learn and in so doing create a better learning environment for my students. This project has allowed me to broaden my ideas and learn from one of the best countries when in comes to education. One of the many things I learnt during this experience is that 'learning is for life' and I truly feel enriched having gained so many ideas and new methods which I can use back at home, in class. I hope that more teachers are given this opportunity as it is truly an incredible learning experience.
Thanks so much for this gratifying and rewarding experience…my colleagues and I learnt a lot with regards to the Finnish educational system and the way the teaching takes place, based on inclusion, openness, break times, trust, sense of guidance, co-operation or collaboration and so on. Well done and all your help, gentleness and hard work was much appreciated!
It has truly been a fruitful learning experience! The visits we had in the schools were very interesting since I observed different methods which I could implement in my own classroom to make learning more enjoyable. The themes in the program gave a good overview of the educational system in Finland. Well done and thank you!
We owe a big thank you to local schools, principals and teachers for their continuous support to open doors to us and our wonderful visitors around the world!